The latest eyeson update brings some small but valuable features for your everyday online meeting: full compatibility to the Web Content Accessibility Guidelines (WCAG) and the push-to-talk feature.
Improved Accessibility
Easy to use for everyone is one of our main focuses. Using eyeson is easy because you do not need to install any client, you can connect to a meeting with every device supported by a modern browser and as a guest, you only have to click on a link you get from your host.
The user interface is centred on the main task eyeson provides: video meeting.
To secure our promise to be the easiest video conferencing provider, we improved the accessibility and made it fully WCAG compatible.
ARIA for Screen Reading Technology
The latest eyeson update also includes better support for WAI-ARIA to make video meetings more accessible to a diverse range of users, including those who use assistive technologies such as screen readers to offer a seamless user experience.
Push-to-Talk
A small but very handy feature: if your microphone is muted just press and hold "m" to talk.

What makes Push-to-Talk a successful feature for your meetings? Its ability to give one person the floor to speak. You speak when it is your turn, everyone else listens, once you finish someone else can take over and have the floor. This gives each employee a voice no matter if you are the manager, intern, or executive.
More Shortcuts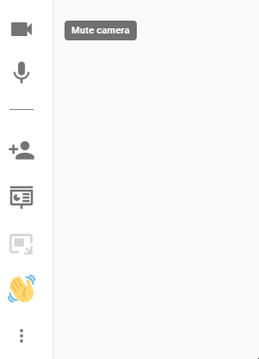 It is now easier to access all eyeson video meetings features or to turn parts on or off without leaving your keyboard.
| | |
| --- | --- |
| Key | Description |
| Tab | Move forward to next focus point |
| Tab + Shift | Move back to previous focus point |
| Space OR Enter | Enter menu, activate a button or open a link |
| Arrow keys | Move to previous or next items in a dropdown menu |
| Escape | Cancel or leave |
Please visit our Help Center for an overview of all available shortcuts.