Municipal councils, General Assemblies and many more were facing major challenges as a result of the pandemic, one of which is remote/digital decision making. To address this challenge, the Austrian Federal Computing Center (BRZ) created a solution together with its partner network to create a secure and manipulation-free environment for digital decision making. Matthias Lichtenthaler, head of digital government and innovation at BRZ and Andreas Kröpf, CEO eyeson, explain the uses and function of this solution in a dedicated article on Legal Tech Times Magazine.

The pandemic caused by Covid-19 has affected both public sector and private law organizations posing some major challenges. Holding decision-making meetings was also made significantly more difficult. Committee and municipal council meetings, general assemblies in associations or supervisory boards had to be cancelled or postponed due to the social distancing measures taking place during the pandemic.

Cyber ​​security, data protection and secure documentation concerns still hinder crisis resistance and the ability of private and public legal entities to carry out the full spectrum of their procedures.

The crucial need for a highly secure digital solution to enable fully documented decision-making processes in a secure environment, in the context of a video conference became evident. Thus, the existing standard web conference functionalities expand significantly.
Documentation challenges
A large number of documents such as Agenda, proposed resolutions, minutes of meetings and other documents are eventually required until a resolution is passed. The identification of participants in resolutions can usually only be inadequately/insufficiently provided. After the resolution has been passed, only a partial transcript of the decisions is created and stored in a central database, which is often open to manipulations and risks of cyberattacks. The manipulation of the documentation of resolutions and protocols cannot currently be discovered and proven in a proper manner.
BRZ is developing a solution with its partner network

To face these challenges, a network of partners, formed a project team in mid-2020 that was committed to the new requirements derived from the pandemic and aimed at finding an innovative solution for conducting secure and legally binding online meetings. A concept was developed and implemented in the form of technical proof of concept under the direction of the Federal Computing Center and the Lower Austria business agency ecoplus. Its Implementation was funded by the innovation-demanding public procurement (IOB) and Austria Economic service.
The pilot solution was developed based on eyeson as a secure Austrian video conferenceíng solution. It is fully operational and has already been used in various meetings
held by the state of Lower Austria. eyeson's technology enables encrypted and private meetings that are entered through temporary, randomly generated access codes. Further on, this allows a secure authentication of individual participants. There are no downloads or registrations needed allowing attendees to access the virtual meeting rooms directly through their web browser.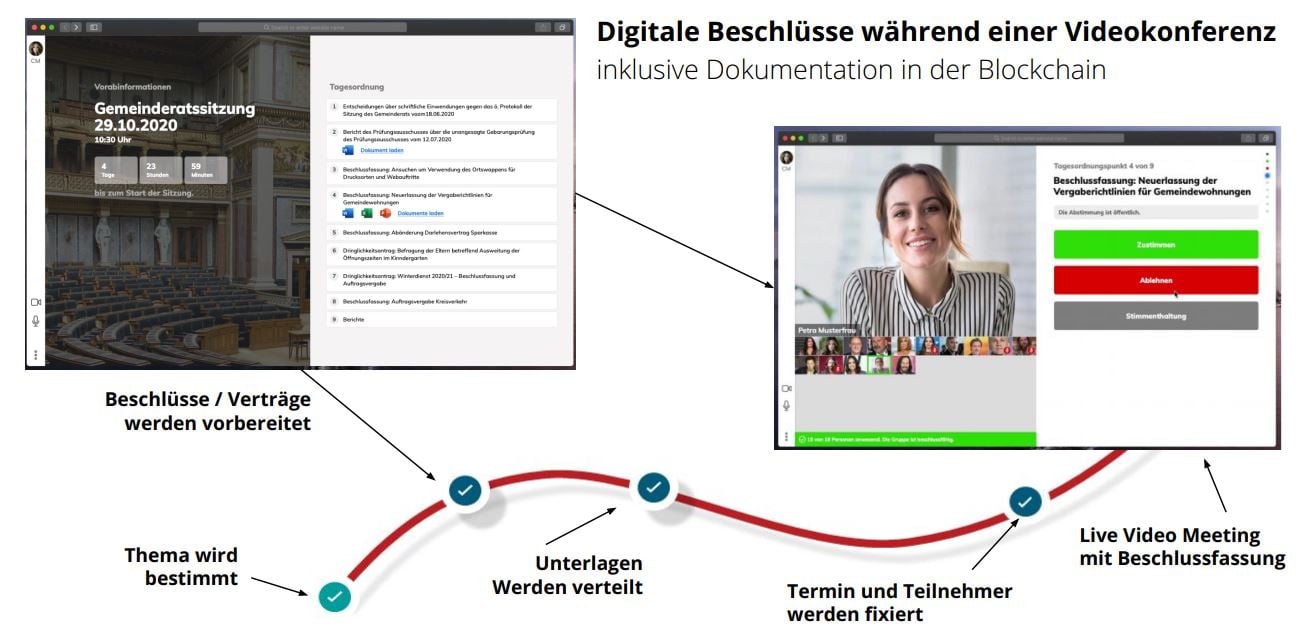 The project team achieved its first success winning a special prize from the Austrian Administration Prize: BRZ was awarded for its proof of concept "Secure online sessions with
digital decision making ". The Austrian Administration Prize is awarded by the Federal Ministry of Art, Culture, public service and sport and directed to all organizational units and administrative levels of the public service. A jury consisting of partly international experts selected the winning projects. Additionally, the projects were evaluated and awarded by students of Austrian universities. But what are actually the capabilities of this solution:
The solution consists of four main parts:
1. The web application in which a moderator is preparing the sessions
(creating agendas and resolutions, adding documents, adding users, etc.);
2. the video conferencing solution for sound & image transmission as well as other common functions;
3. The web application in which the video conference is embedded and in which participants can follow the agenda, open documents and take part in the voting;
4. The blockchain solution that is not visible to users, where the legally and tamper-proof storage of the results is documented.
Carrying out legally binding voting

Digital decision-making enables legally binding resolutions in online meetings for both public and private organizations. It combines video conferencing with a structured agenda, shared documents, legally binding digital voting and automated, transparent and tamper-proof creation of a protocol, secured in a blockchain.
For this purpose, a secure video conferencing solution is provided that can be seamlessly integrated into a web application to enable carrying out meetings enhanced with decision-making functions.

This way, the moderator (e.g. the mayor) can prepare a structured agenda prior to the meeting and use it to lead the session. Documents can be attached to the agenda and legally binding and secure electronic voting can be carried out. The results are saved in a legally secure manner. Everything takes place in an intuitive and user-friendly environment, understandable also for users without in-depth IT knowledge.
eyeson Patent on "Binding Agreements in a Video Meeting"

eyeson has a patent, filed in Germany, for conducting video conferences and carrying out legally binding decisions. Participants can be identified with an authentification module. Prior, all participants involved in the registration in the videoconferencing system have consented to be integrated into the digital signature process. This allows also the mobile number to be stored so that the signature confirmation code can be transmitted in the signature process by SMS to the mobile phone of the participant concerned. With the digitally signed protocol, binding agreements can be negotiated in videoconferences, inventories can be defined, next steps can be defined or budgets can be awarded.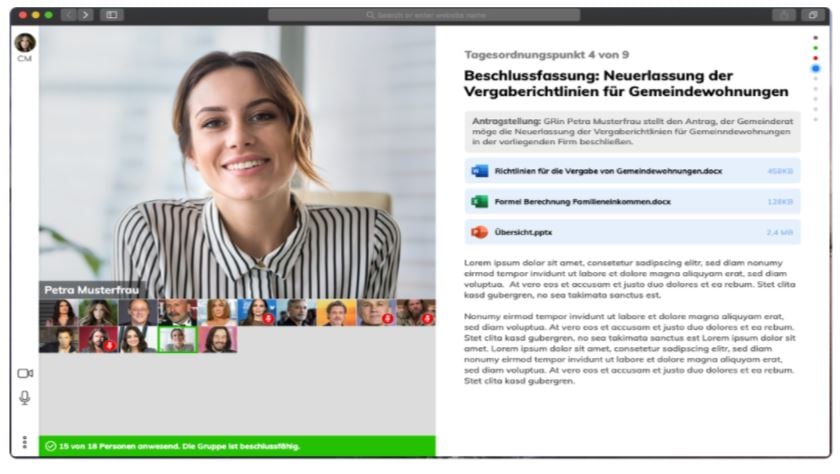 In 2013, eyeson's Single Stream Technology was patented in Austria and in 2019, five years after receiving the Austrian patent, eyeson received the patent in the US as well. Another European patent has been applied for and is pending.
Tamper-proof through blockchain

An innovative blockchain solution enables legal security and a manipulation-safe technical basis. All relevant artefacts (agenda, documents) as well as the results of resolutions can be saved in an automatically generated protocol. Each participant is part of a private
blockchain network with limited access, which can be strengthened further with highly secure servers.
All documents related to meetings can be uploaded to the network that ensures tamper-proof storage. The session data is stored with a timestamp, decentralized for each participant. The hashing function built in the blockchain network makes subsequent manipulation of the data immediately visible.

The data can either be loaded into the blockchain as plain text, encrypted or as a hash value. All data stored as plain text can be available to participants as PDF to serve as evidence. Mechanisms for the GDPR-compliant deletion and correction of the data can be provided due to the limited number of participants.

The benefit of the communication and collaboration possibilities brought to the users in the current pandemic or that will bring in potential future states of emergency or disaster is evident. Thus, legally secure resolutions can be passed, without physical presence,
being documented in a tamper-proof manner. In addition to the functional benefit, this increases the decision making transparency and thus trust. Moreover, with the provided solution, the administrative and error-prone effort can be reduced.
A solution with a lot of future potential

Also in post-pandemic circumstances, there are sufficient application scenarios to be expected for this solution. With the establishment of remote collaboration tools, virtual meeting participation will become even more common in the future. It is therefore conceivable that future hybrid formats will be used to enable combining physical and virtual participation in meetings and decision-making. The use of transparent and tamper-proof storage of resolutions and documents as well as protocols in a blockchain is therefore advisable in order to increase transparency and trust.

Given the current focus of the proof of concept is on municipal council meetings, the solution offers great potential for expansion to different dimensions and uses. In principle, all decision-making bodies are relevant.

The solution can be used in different administrative levels, be it district, municipality, state or
Federation. Even with legal forms outside the public administration, the solution can be used, for example, in associations, companies, but also in larger projects with decision-making committees. A wide variety of meeting formats can be supported, be it committee meetings, steering committees, supervisory board meetings and many others.

The lawyer and blockchain expert at DORDA, Alexandra Ciarnau, certifies that the pilot project plays a pioneering role: "As a pioneer and trailblazer for new technologies in public administration, BRZ proves with its new pilot project that blockchain technology can also be used profitably and legally. The essential characteristics of the blockchain - trustworthiness and transparency - enable digital decision-making and close a large gap that currently exists.
References