Upload your own custom background picture as virtual background for your next meeting, for example, your company brand, or some nice background pictures to brighten up the next online meeting.
Why does anyone need this feature?
This can be helpful for companies and individuals because virtual backgrounds can help to enhance privacy and to strengthen brand awareness.
Custom virtual background availability
This feature is available now for all participants and is supported using all desktop browsers on Windows, MacOS, ChromeOS, Linux with the following limitations: Safari on MacOS is not supporting soft or strong blur. Mobile devices (iPadOS, iOS, Android) do not support virtual backgrounds. Image file formats .jpg, .png and static .gif are always supported, which other formats are working depends on your browser.
The virtual background is calculated on your computer and the image will be stored in the browser's cache, so expect CPU utilization and memory consumption to increase.
If you are providing your own application with eyeson API, you can activate and configure the availability individually per meeting (per default it is deactivated).
Using your picture as a virtual background is easy
No need to install anything! The next time you are attending an eyeson meeting you will see a new icon within the device settings. Just click on it and upload your picture. You can upload one custom picture.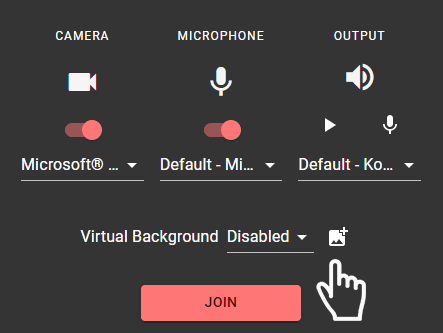 You can always change or disable your custom virtual background in the device settings dialogue.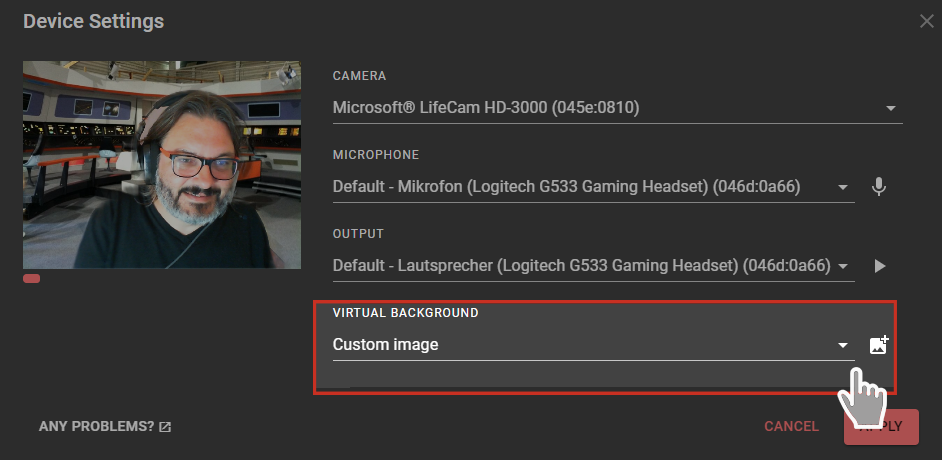 What are you waiting for? Start a meeting and try it for yourself!
We're always happy to hear your feedback, so make sure to let us know what you think! For more detailed explanations on how to use this feature, make sure to visit our help center.