Turn your challenges into success stories! This headline from Sophia Advisory describes best what the micro advisory service does.

We had a very stimulating meeting with Markus Waghubinger, Co-Founder and CEO of Sophia Advisory (hallosophia.com), a digital business consultancy that connects business experts of all fields with businesses to make sophisticated advice accessible to businesses. Sophia is now part of the European Innovation Council - EIC and is working towards building an innovative Microadvisory Platform for the world!

eyeson: What kind of business do you run?
Hallo Sophia: We created Sophia with the vision of building up a platform to connect those who can offer business expertise with the companies needing support. We offer a One-Stop-Shop for business expertise, helping you define your next step of economic growth and find the right expert to support you. Therefore management decisions of companies of all sizes can be improved and the full potential can be developed.
The idea of microadvisory grew in a process starting at the EUvsVirus Hackathon without meeting physically, but with full knowledge-transfer, with the support and feedback of many.

eyeson: Where are you headed as a business?
Hallo Sophia: We are striving to make business advisory more goal-oriented, convenient, time- & cost-efficient and help people grow their businesses from anywhere in the world, providing advisory from a global network of experts and experienced entrepreneurs ready to help. We look towards building and establishing a network of expertise and trust where the experts' offer and advice is tailor-made for our clients and their specific goals.
We want the economy to #restartStronger with healthy companies through the support of many sophisticated advisors. #StrongerTogether.

eyeson: What challenges were you facing and what motivated you to solve them?
Hallo Sophia: With Sophia's network, we are providing clients with the most convenient way to get in touch with experts in the required area. In the current age of technology and information, Sophia coordinates appointments, documents and information exchange while planning meetings for you in a virtual advisory room. All the administration work and logistics have to be organised in the most convenient manner for all stakeholders while providing the necessary data protection and complete confidentiality. eyeson gave us the option to decide where our meetings are hosted, allowing us to discuss critical client-related details and act in compliance with GDPR.

eyeson: Why did you choose us over the competition?
Hallo Sophia: It was important that the video consulting seamlessly fits into our design and that we can use all personalization options. With eyeson, we not only have integrated video conferencing technology "made in Europe", but also the full personalization capability of the digital Sophia consulting rooms. Moreover, we have now your web-app integrated as well and I need to say, that your web app is far better than google meets & co native apps. Chapeau! We are really happy with our eyeson integration.

eyeson: How do you use our product / service, and how do you find that process?
Hallo Sophia: Our developers told me that the API description is great and the integration was easy. Now we have fully integrated it in our one-stop-shop for remote business advisory.

eyeson: How have you benefited from using our product / service?
Hallo Sophia: We were immediately able to open virtual advisory rooms on all devices in our branding.

eyeson: How has our product / service improved your day-to-day life?
Hallo Sophia: Aiming at a global network and working remotely with different partners our virtual meetings require a certain simplicity of administration and accessibility. The interface of eyeson and the possibility it gave us to customize the virtual spaces based on our needs, also allows less tech-savvy people to join a video meeting without any problems and from anywhere.

eyeson: What have you learned from working with us?
Hallo Sophia: You do not have to do and host everything for yourself! The right partner with the right service ads value to your own project. Speaking with the eyeson team was a big win for our team.
There is a lot of potential in European projects. Especially given some advantages as for example the higher data protection, we can achieve great things.
Thriving through the crisis and growing stronger together out of this is what we envision.

eyeson: What would you say to other businesses facing the same challenges as you did?
Hallo Sophia: Persevere and you will be successful! Find people with expertise and build an infrastructure that will grow to serve different fields. This age of information and the constantly evolving culture of digitization is thirsty for expert knowledge.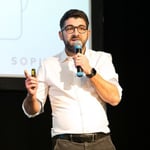 Hallo Sophia
Contact: Markus Waghubinger, Co-Founder & CEO
LinkedIn: https://www.linkedin.com/company/sophiaadvisory/