What amazing days at WAD World Congress 2022! After long years of lockdowns and restrictions, it's been wonderful to engage with people in real life, and share insights and creative ideas! In many ways, it served as a think tank for part of the team to generate new inventive ideas.
The congress featured a significant number of developers, the vast majority of the approximately 8.000 attendees were devs. Hundreds of live demos, interesting talks, and two workshops were our highlights
Our presence at WWC22
The simplicity of our booth design reflected the simplicity we offer for developers - just one stream, just a few lines of code, and a simple pricing plan. We were very excited to have many more visitors than expected. The core team at the booth was busy during both days showing the eyeson API and explaining its core technology - our Demos were very well received.
For many of us, the highlight was seeing our visitors' motivation to jump on a live demonstration right away and to get into conversations with our core developers. We appreciated the feedback from developers and project managers on how our services can be integrated into their use-cases, apps, solutions, or workflows in the near future.
Getting to know colleagues from other companies in person was also very rewarding and gave us a great opportunity to explore ways in which we can work together. We are looking forward to some exciting months ahead.
At the end of the day, this event was also experienced as the missing part of our internal team building having nearly everyone work towards a successful outcome.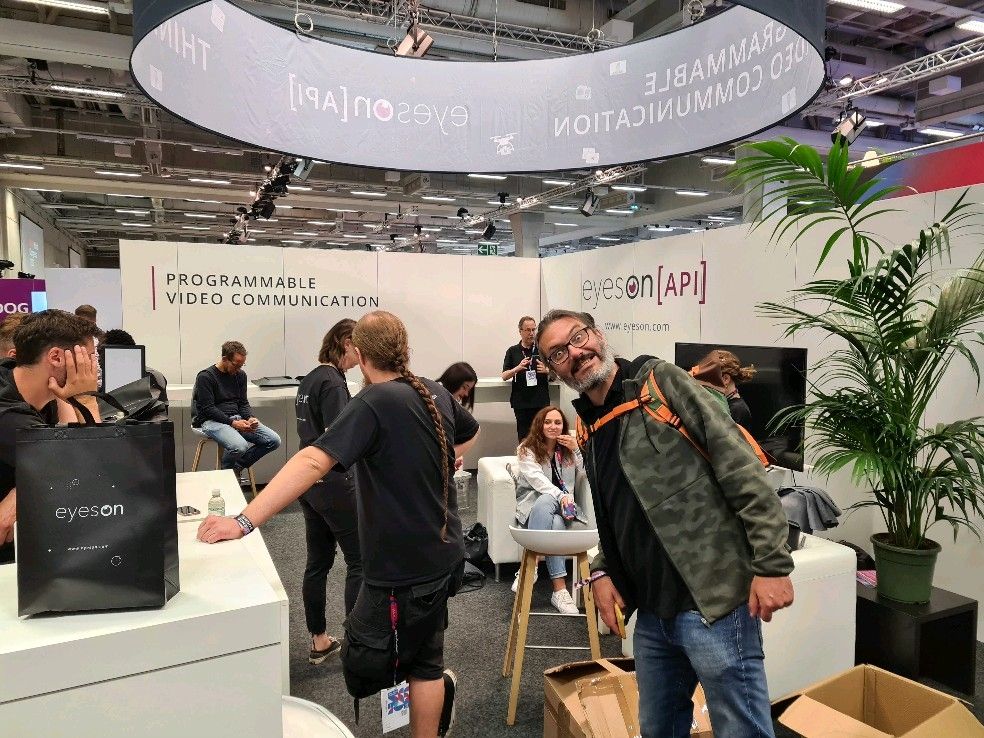 Our workshops
The workshops our developers have prepared also attracted a good number of attendees. Christoph showed how to build a custom web-based platform from scratch that connects users to online meetings. The software authenticates users, manages and controls video conferences, and stores a history of meetings utilizing the eyeson API. Some of the topics covered by the workshop were: User Authentication, Meeting Access Control, Meeting History, Storage of Snapshots and Recordings, Custom User Interface.
One of the main aims of the workshop was to show how easy it is to adapt the solution to use within an existing project.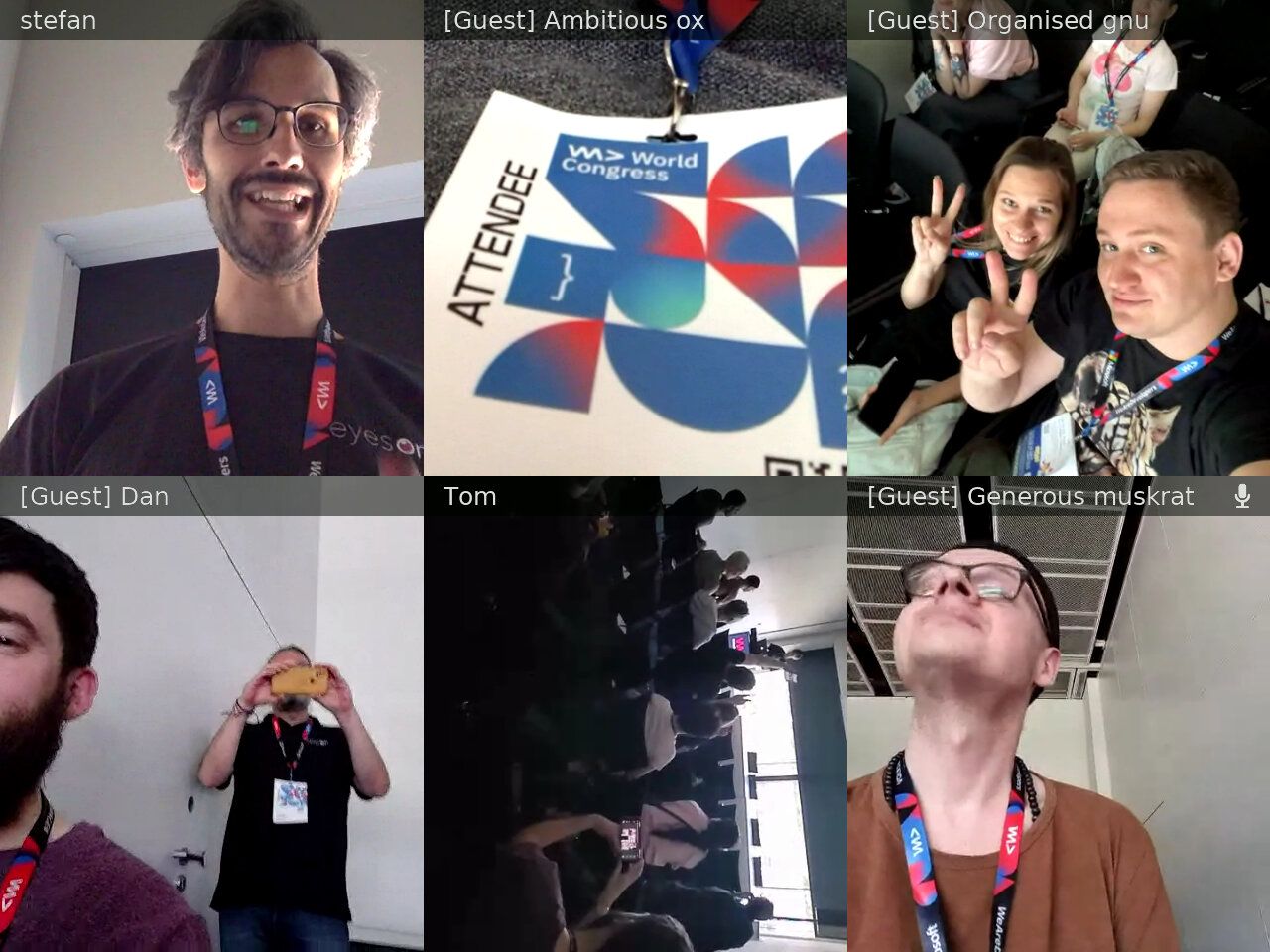 eyeson snapshot taken live during the second workshop
In the second workshop, Stefan, our Senior Frontend Developer, showed how to control and influence a running meeting by manipulating the layout and the look and feel, how to add and show live data, and how to automate tasks based on specific needs.
We are glad that lots of developers had the chance to learn more about our service from their peers.
Stay tuned for more information as workshop videos will follow!
The eyeson T-Shirts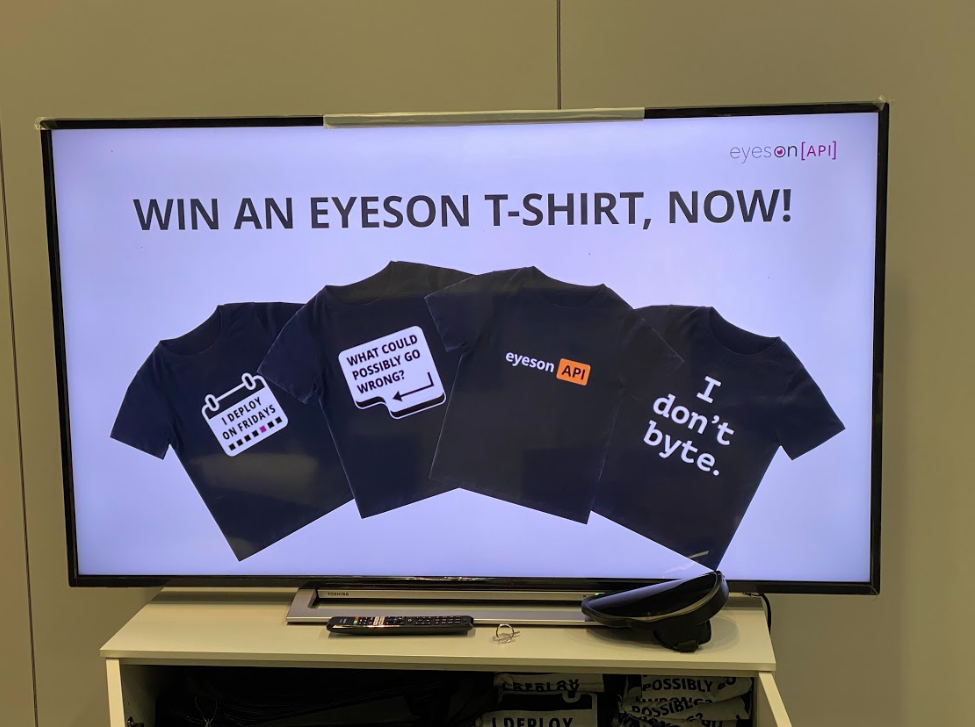 We run out of t-shirts at our booth! The first one to go where the 'I deploy on Friday' and right after the 'What could possibly go wrong' - it made us feel as if we were sharing part of our culture with the visitors and were creating a bit of a more personal connection.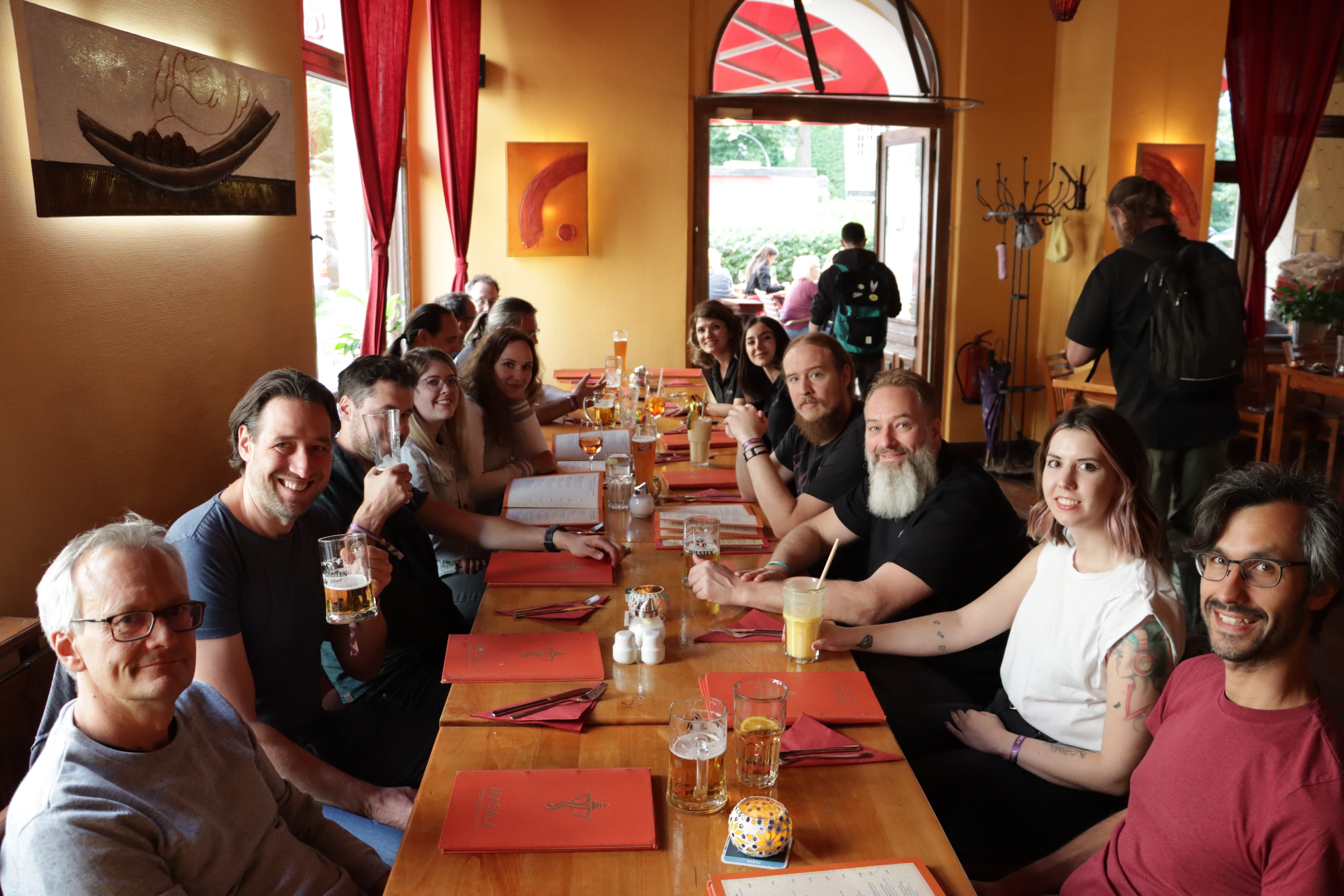 We look forward to meeting you at the next event!
Fork the two workshops at our Github repo: