Videoconferencing and live streaming are something more than a pandemic-driven trend. The use of video streams has proved to improve the workflow, enhance communication, and level-up team performance. The experts expect the video streaming trend to continue and accelerate in the coming years.
Do you consider adding video to your workflows? You're on the right track. Here are a few things that will help you to get started.
Analyze existing workflows
The first step you should take is to assess and analyze the existing workflows. You should define the tasks and processes that affect the efficiency of employees and think of how you can improve them by adding video.
At this stage, you should collect and analyze employee feedback. You can talk to employees in person, ask them to complete a short survey, or write up their ideas in an email. Your main task here is to listen to your team members and define the workflow areas that need optimization.
Know all the options
Video technologies are continuously developing, and it's difficult for managers to keep up with new trends. So it's not a big surprise that most managers don't even realize how many opportunities modern converged media platforms have to offer. Thus, the next step you should take is to research the topic and learn more about the cloud-based service and its advanced video streaming features.
What is the eyeson API, and what can you leverage it for? The eyeson API allows developers to integrate various data sources, including media streams, images, and doc files, as a custom video stream. That enables users to broadcast videos, presentations, or their entire screen instead of their camera video. Unique Single Stream Technology makes it possible to merge all the incoming video streams into a single user-friendly interface and create a fully synchronized viewing experience.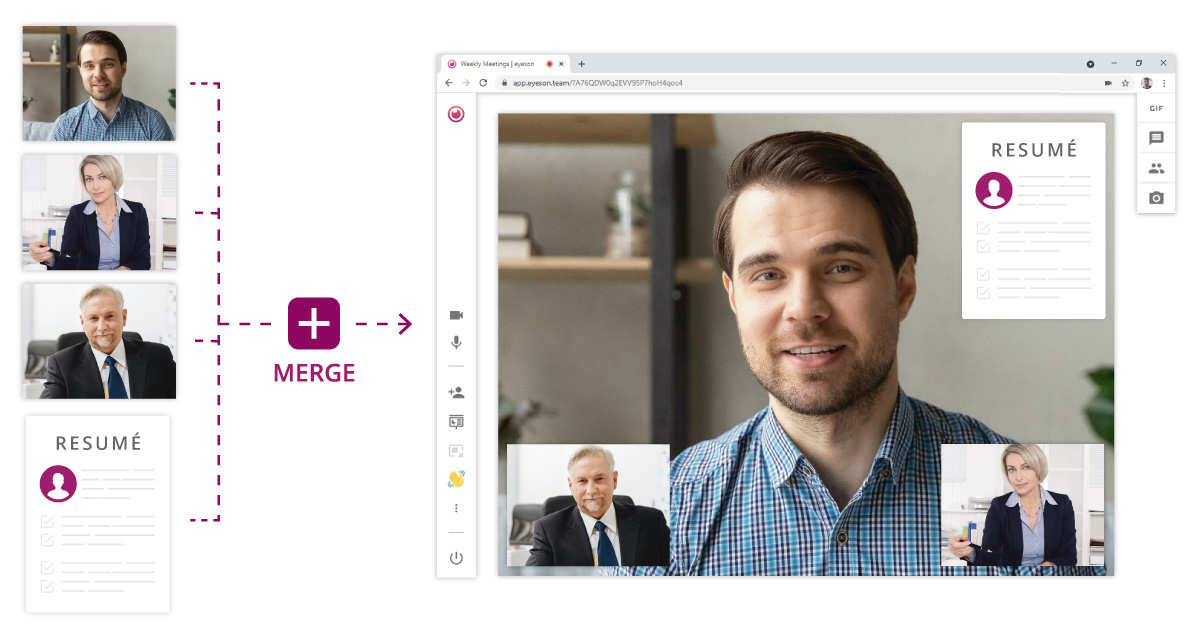 You can apply the eyeson service to almost every process that takes place in your organization: from running meetings and making strategic decisions to recruiting new employees and providing top-notch customer support. Therefore, when you analyze the workflows, you should analyze every task and every business process, not just the workflows of specific operations and scenarios.
Come up with a solution
Once you figure out what issues you need to fix, you can start looking for an effective solution. You can research possible solutions by yourself and discuss them with your team. Or you can contact experts in video streaming to get a piece of professional advice.
Your organization is unique in terms of workflow implementation. So there is no one universal workflow optimization strategy you can follow. If you don't know how to get started, take a look at the following examples of the workflow issues and offer video solutions.
Example 1
A team of editors, educators, and thesis writers works together on a research paper writing project. At every virtual meeting, team members use two tools:
A videoconferencing tool to discuss the research process
A document editing tool to work on the text of the paper.
Problem. Team members have to continuously switch from one tool to another during the meeting. "Switching" interrupts the discussion process and results in time wasted.
Solution. Instead of using two tools, it's possible to use one tool for this purpose. With the help of eyeson, you can easily integrate live video chat into the workflow. eyeson enables document sharing with screencasting and provides information storage with video recording.
Example 2
An innovative company has a goal to boost the remote recruiting process and hire new employees faster.
Problem. Currently, the process of contract reviewing and negotiation takes from a few days to a few weeks: the recruiter sends a contract to a prospective employee, then waits a few days to schedule a meeting to discuss the contract.
Solution. The company can leverage eyeson and make video chats with new hires more effective. The eyeson API enables merging any participants and live data (including contracts and corporate policies) in real-time. It means that recruiters can start a video chat with a prospective employee, display the contract on the screen, and discuss all the important points right away. Once recruiters create a more comfortable and engaging environment for contract discussion, prospective employees will be able to make their decisions faster.
Focus on defining flaws in communication

Poor communication is a key reason for workflows ineffectiveness and low performance. So if you want to improve the business processes, you should start by improving communication. Here are a few questions you should ask and address:
What tools do your employees currently use to communicate with each other? Are these tools up to date, or should you opt for a more innovative solution?
If you want your company to thrive in an ever-changing environment, you should provide your team with the most effective tools. That's the only right way to promote effective communication and teamwork.
What media files do your employees share with each other? Do they share files in an effective and secure way during their video meetings?
If file-sharing options are limited, that may affect the overall performance of your team. Use advanced platforms like eyeson to ensure that every employee can access necessary files and data in a timely manner.
How often do your employees communicate/interact with one another?
Probably you need to provide them with more effective tools, strategies, and guidelines to strengthen the communication. Do your employees spend most of their time in meetings?
Make sure that your employees don't face any technical and other issues while communicating with one another. Revisit the concept of the meetings and boost efficiency with the help of cloud MCU service.
Use videos wisely

Even though videos can significantly improve your existing workflows, you shouldn't overdo it. You should make informed decisions and add videos only to those processes where it's necessary. For instance, you shouldn't offer your employees to start another video chat when they can send an email instead.
Also, it's worth mentioning that you should opt for customizable video streaming solutions that fit your very company rather than universal solutions. eyeson provides you with an opportunity to configure your video layouts in real-time. eyeson offers layouts for medical management, customer support, drone applications, multiplayer playing, and other unique video layouts.
Try it out

Do you still doubt whether video and media streaming can benefit your organization? You will never know unless you try it out.
The eyeson services are easy to use and fast to embed. The eyeson experts support developers and make the implementation of complex digital workflows a breeze. If you decide to try this service, it will take your organization just a week to make a change and enhance the business processes. Take advantage of eyeson, and you will get one step ahead of the competition.
Wrapping up

eyeson is an effective solution for improving workflow. Add videos to your workflows today, and you will see the difference. You will enhance in-team and cross-department communication and create a safe environment for your employees to use media streams. It will allow you to improve the overall performance and take your organization to the next level.
About the author:
Jessica Fender is a copywriter and blogger at
Ewriting
with a background in marketing and sales. She enjoys sharing her experience with like-minded professionals who aim to provide customers with high-quality services.